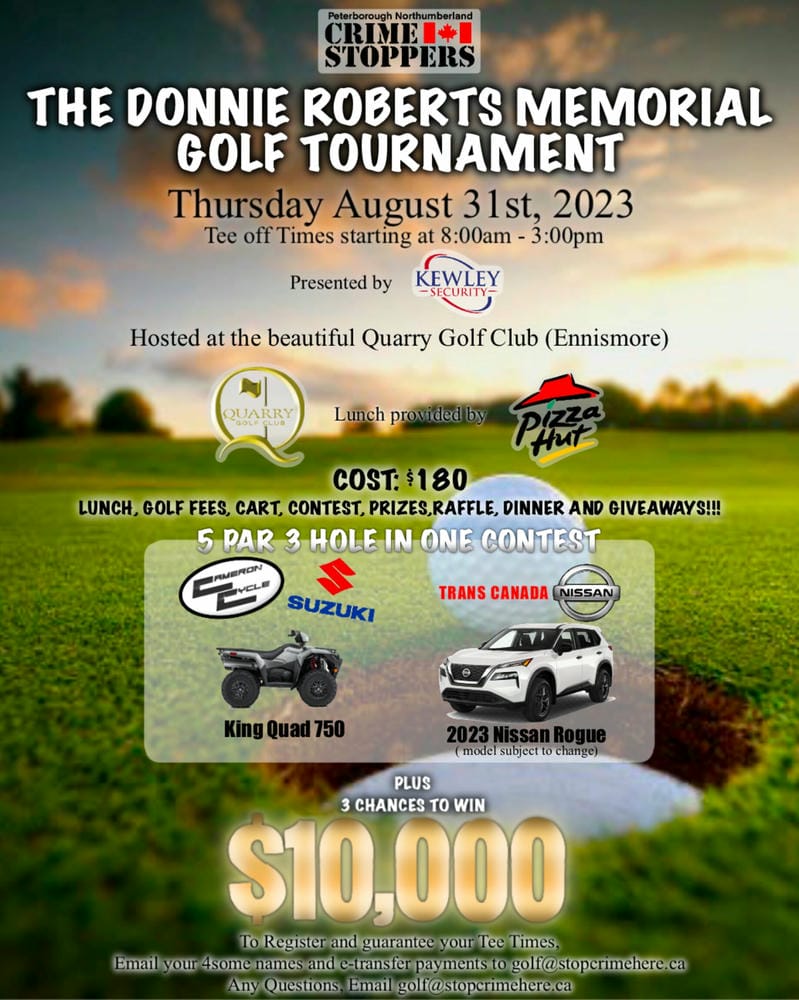 About Us
Peterborough Northumberland Crime Stoppers is dedicated to keeping our two counties safe, vibrant places to live, work and visit. To do so requires a committed effort by our community partners: the police, the public and the media.
Peterborough Northumberland Crime Stoppers is a registered non-profit charitable organization. We do not receive funding from any level of government or any police agency. It is an on going challenge to keep this program financially sound. This is accomplished through donations and a number of fund raising events through out the year.
Statistics

As of Dec 2021 and since inception (1987)

New Calls
42,271
Arrests
3,667
Charges
9,928
Cases Cleared
4,511
Property Seized
$6,266,899.
Drugs Seized
$188,106,177.
Mission
Crime Stoppers is a community based program that brings local citizens, the media and the police together in partnership to solve crime. This is accomplished by offering cash rewards and guaranteeing anonymity to persons who furnish information leading to the arrest of or laying of charges against criminal offenders.
History
Crime Stoppers began on Sept. 8th 1976 in Albuquerque New Mexico, following the senseless murder of a young university student. After 6 weeks of investigation without success, a local Canadian born detective named Greg MacAleese appealed to the public for information. Greg and a local TV station made a re-enactment of the murder and asked for anyone with information to call him. Greg guaranteed anonymity and offered a cash reward. Within 3 hours of the broadcast the detective received his first call with information. Within 72 hours two individuals were arrested and the case was cleared.
Peterborough Northumberland Crime Stoppers was incorporated in 1987 as Peterborough Crime Stoppers. At that time the Northumberland area was covered by a separate chapter. In 1998 the two chapters amalgamated to form our present program.