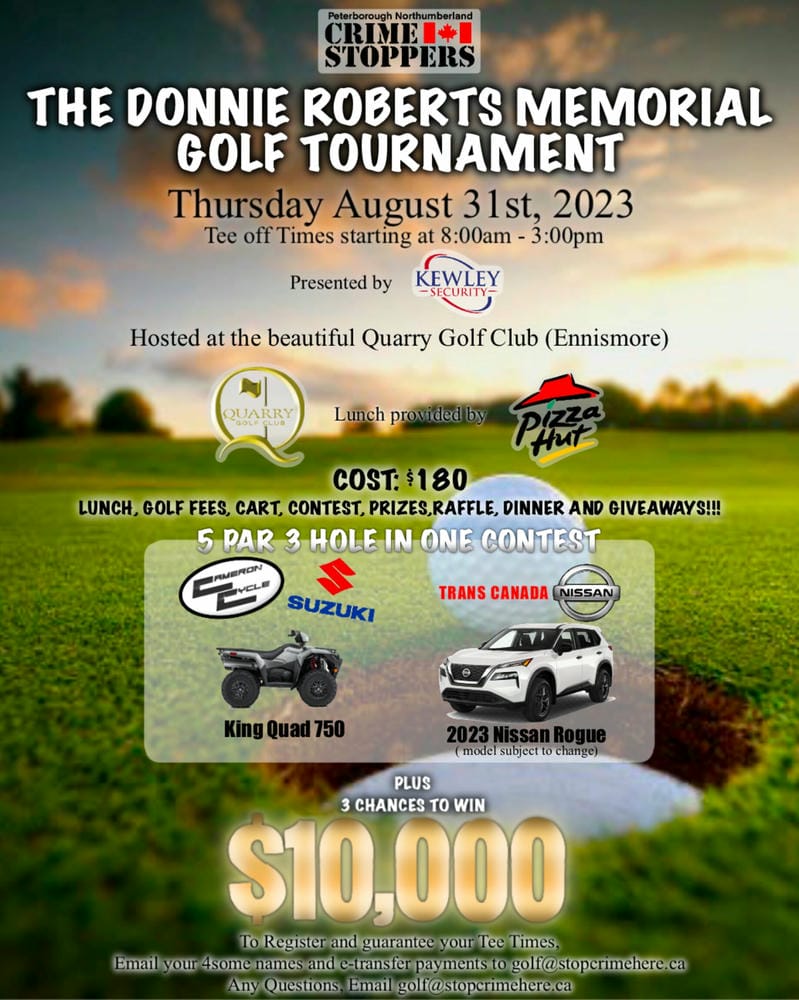 Frequently Asked Questions
Is Crime Stoppers part of the police?
We are NOT the police. Peterborough Northumberland Crime Stoppers is an independent, non-profit registered charity that helps solve crimes to keep our communities safe by taking tips from anonymous sources. Our program is one of more than 1700 Crime Stoppers programs around the world.
Should I call 9-1-1 or Crime Stoppers?
In the event of an emergency or if you witness a crime in action, always call 9-1-1.
Contact Crime Stoppers to anonymously report suspicious or covert activity, or to provide a tip or information about an unsolved case or fugitive criminal(s).
What is a tip?
A tip is any information that you are aware of that might help law enforcement to either prevent or solve a crime. No tip is too small. The information you have, may be the missing piece of the puzzle. Countless criminals are brought to justice every year as a direct result of an anonymous tip from someone just like you. A tip can be about anything; drugs, theft, child abuse, human trafficking, terrorism, escaped criminals, and more. You are encouraged to keep a watchful eye on your community and report suspicious activity. Your call is anonymous and the appropriate officials will investigate all tips. The information you provide may help save lives.
What makes a good tip?
There are no bad tips, but what makes a good tip great is in the details!
When making a tip, please DO NOT give your name or address. We want you to remain ANONYMOUS.
If you are the victim of a crime, we cannot guarantee your anonymity as Police require the victim's name to investigate. Please report your crime directly to your local police service.
When submitting your tip, please remember: WHO, WHEN, WHERE, WHAT, WHY and HOW. Provide as many details as possible.
Who:
Who is involved? Who is/are the victim(s) and/or the suspect(s)?
Provide their full name, nicknames and/or alias they go by.
Provide their description: age, race, height, weight, hair (length, style, colour), eye (colour, do they wear glasses/contacts), typical clothing and any identifying features (scars, marks or tattoos).
Provide their employment or school information and their schedule if you know it.
Provide their address.
When:
When did the crime occur?
Provide the date and time.
Provide how long the crime occurred for or how long it has been going on for.
Where:
Where did the crime occur?
Where does the suspect(s) live?
Name the city, nearest cross streets, and address.
Provide a description of the location.
What:
What type of crime are you reporting? (Please provide details)
What did the suspect(s) do?
Why:
Why did the crime happen? (Was there a reason for it to occur on a certain date and/or time?)
How:
How did the crime happen? (For example if it is a drug crime, how does the dealer sell drugs).
How did you become aware of the crime? (Did you witness it, overhear someone talking about it, etc.)
How many people are aware of the crime?
How did you know to contact Crime Stoppers? (social media, website, newspaper, road signs etc.)
What happens to the information I provide?
After you give us your information, we create a report that brings together all the information you provided. Our trained information takers will check to make sure that the report contains no information that might identify you.
The report is then sent to the relevant authority who will deal with the information. They have the legal responsibility to investigate the information prior to acting on it to ensure the information is correct and not given to us maliciously in order to set someone up. Law enforcement cannot obtain a search warrant or make an arrest based solely on a tip; there must be other intelligence to support the Crime Stoppers information.
Is my 1-800-222-TIPS call anonymous?
Crime Stoppers does not use any form of caller identification, tracing or tracking. We do not collect any personal information from our citizens, so you remain completely anonymous. After submitting a tip, you will be provided a unique ID number to use when checking the status of your tip or picking up your reward.
Is my Online Tip anonymous?
Tips submitted through this website are encrypted, entirely confidential, completely anonymous, and are immediately and securely transferred directly to Crime Stoppers using special Tip Management Software to ensure a secure and private transfer of your tip. We do not collect any of your personal information, so your identity is protected. After submitting a tip, you will be provided a unique ID number to use when checking the status of your tip or picking up your reward.
How do I follow-up on the status of a case?
After submitting your tip, you will be provided with a unique ID number. Keep a record of this number – when you call, you will be asked for your ID number. You will use this number to anonymously check the status of your tip. Once you provide the ID number you will receive an update; you may call every 90 days. Your follow-up call also remains anonymous. If your tip results in an arrest, you are entitled to a cash reward.
How much will I be paid as a reward?
Cash rewards are based on the usefulness of a tip in solving a crime.
The payouts are higher for more serious crimes such as murder, sexual assault, illegal drug seizures & distribution, weapons seizures & distribution,  human trafficking, etc. For less severe crimes like vandalism, petty theft, etc., the cash rewards are smaller.
Reward amounts are approved by the Peterbrough Northumberland Crime Stoppers Board of Directors and can be up to $2,000.
How do I collect a reward?
If your tip results in an arrest, you are entitled to a cash reward and will be issued an ID number and instructions for anonymously collecting your cash reward. Reward monies are collected anonymously at a location by presenting only the ID number. No form of identification is ever required so your identity is never compromised.
I still feel unsure about calling.
Many people just like you contact Crime Stoppers every day to tell us about a crime. Each tip is reviewed by our trained personnel before it's forwarded to our law enforcement partners.
Crime Stoppers is designed help to ease some of the burden that can develop when you know information but are unsure of what to do with it. We know that sometimes picking up the phone and talking to a stranger about an awful situation is not easy. Our trained operators empathize with each and every tipster and give them our full attention.
Speak Up. Stop Crime. Stay Safe. 100% Anonymous
There are no police officers or police personnel at the Crime Stoppers Contact Centre. The Tipsline operators are trained to have a personable conversation with someone rather than interrogating them for facts and figures. We don't take the name of the person that calls us or subscribe to caller ID, and no recordings are made.
The Tipsline operators are provided with the skills to get as much information as possible without ever compromising a caller's anonymity. Callers are often surprised at how much information they do know, it just takes some time to dig around and root it out.